We understand your challenges and questions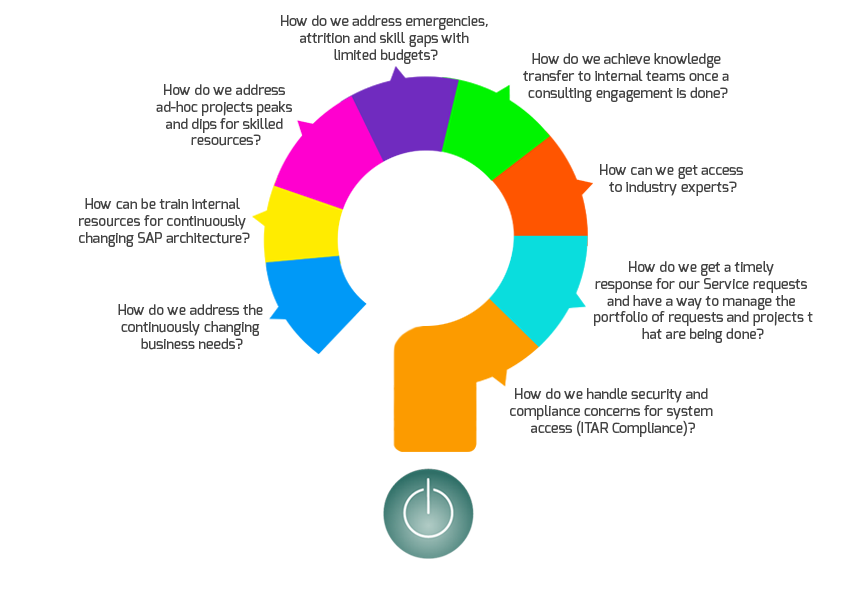 V3iT Consulting is an SAP Service Partner, SAP Channel Partner and one of the few companies that initially got certified as an Applications Managed Services Provider by SAP.
Businesses today are demanding more from their technology partners - they demand solutions that work and services that are of genuine value. With V3iT, you work with seasoned team of consultants without the overhead costs while getting quick response to required help. We are a trusted technology partner that provides fixed cost support services to our clients which makes it easier for customers to plan their budgets while still getting quality service.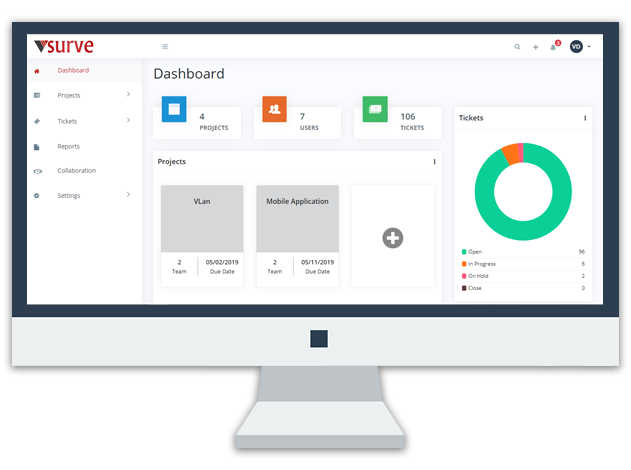 vSurve
A better way to manage your service tickets and projects
vSurve is a proprietary tool that provides you real-time updates on where your projects stand. It allows collaboration with our staff that are directly working on the project and to track completion of milestones and tasks. This platform allows you to add tickets, create projects and manage all the details.
Our Application Managed Support Services provide resources that stay on the leading edge of knowledge on tools and technology. We provide full visibility to your portfolio of work with us and top talent to resolve your issues and deliver projects that can improve your business. Our user-centric focus means we not only complete our service requests and projects, we ensure a transfer of knowledge to keep your resources current.
| What We Can Do for You | Application Managed Support Services |
| --- | --- |
| Save up to 50% in current costs with our service model and obtain 33% more resources. | Help Desk / 2nd Level Support - Offers 24/7, level-one and level-two support – via a user help desk and a service portal – that helps your personnel manage IT problems and user support as well as integrate third-party software for third-level support. |
| Deliver maximum value from SAP Solutions. | Continuous Maintenance - Archives data, optimizes workflows, loads reports, and monitors master and transactional data and batch jobs – so you can implement notes, service packages, and patches, as well as execute periodic and critical-mass activities. |
| Allow you to focus on primary business objectives. | Continuous Improvement - Optimizes existing processes and structures and provides adjustments to customization and parameters – so you can create and enhance programs, reports, and forms as well as support test scenarios, create and update documentation, and optimize application and basis components to improve stability, processing speed, performance, and response times. |
| Assume or assist with the task of planning, building, and running SAP systems. | Continuous Change - Implements new functions and components, offers functional-release upgrades and interface programming, and enables you to develop archiving concepts, create authorization concepts, and manage new releases. |
| Perform routine IT operations & support. | System Management & Monitoring - Manages your solution landscape and monitors its relevant interfaces, enabling you to plan, implement, and monitor stress tests and extend your monitoring of system landscapes and business processes – all so you can proactively analyze and optimize performance and obtain follow-up support for go-live, new releases, and migrations. |
| Provide guidance with SAP solutions to implement strategic objectives and realize business benefits. | Solution Optimization - Identifies your solution's problem areas and causes, solves acute performance issues, provides documents that can help prevent future performance problems, and optimizes processes for running applications, systems, interfaces, and solution landscapes. |
| Provide reliable and scalable AMS support that delivers rapid responses. | Customer Service and SLA management - Provides a dedicated customer service manager who can help you coordinate SAP services, manage service preparation and implementation, oversee knowledge transfer, deliver transparent service reporting – and comply with guaranteed service-level agreements (SLAs). |
| Provide experts skilled in verifying the smooth and reliable operation of your business. | Remote Application Operations - Manages the day-to-day technical operations of running your SAP solutions remotely, with SAP experts connected to your SAP software systems via a permanent secure line that enables support without an on-site presence, while your systems remain within your data center or in a third-party hosting facility. |
| Provide up-to-date guidance in running SAP applications (from individual components to SAP Business Suite). | Strategy and Support Services - Establishes operating cost transparency, optimizes vertical service integration, compares scenarios, defines strategies for system operation, and provides decision reviews based on SAP Best Practices. |
| Provide optimization of existing business processes & IT systems. | Process Support and Infrastructure Design - Reviews existing support structures and processes to develop plans for creating new support structures and processes that are based on SAP Best Practices. |
| Strategically boost productivity, exploit opportunities, gain competitive advantages. | Support Enablement - Provides direct access to SAP experts and offers infrastructure and training for your SAP Customer Competence Center (SAP CCC) team, services which can help them optimize support processes and apply support tools such as SAP Solution Manager. |